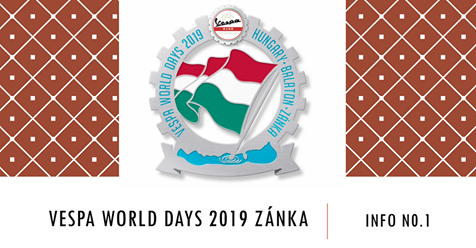 Dear All,
We have good news on booking of Zánka Resort accomodations!
From their side the booking period starting from now for VWD 2019.
Important! It is only available the period of 5th to 10th June 2019
If you know which one suit you, write an email to Zanka Resort, they will reply to you with the details.
vespa2019@zankaevent.com
 Participants can choose from the following accommodation types:
Szobaárak REGGELIVEL

Szobatípus

2 nights

3 éjszaka

4 éjszaka

5 éjszaka

6 beds

54 000 HUF

81 000 HUF

108 000 HUF

135 000 HUF

8 beds

72 000 HUF

108 000 HUF

144 000 HUF

180 000 HUF

3 beds

40 500 HUF

60 750 HUF

81 000 HUF

101 250 HUF

2 beds

27 000 HUF

40 500 HUF

54 000 HUF

67 500 HUF
Abowe mentioned prices not includes IFA (tax on turism 400HUF/person/night over age 18) and parking fee (payable at first enter 2500HUF/car; car+trailer; truck, but NOT for sooters)
Zanka Resort will put a statement on individual accomodation confirmations: "This confirmation is not give auhorization for the holder attending VWD2019 event."
As we communicated before, at the begining the first 500 beds will available for reservation, but don't worry, there will be more accomodations (2000 beds) become available soon at the Zánka Event Venue. We planning that, next booking term going to open in mid October.
(Be noted for that 9-10th June is Pentecost.)
There are several accomodation possibilities for disabled people.
Pets are nor allowed at the accomodation houses. They allowed at Vespa Village and the on site Camping place.

Best Regards,
Marton