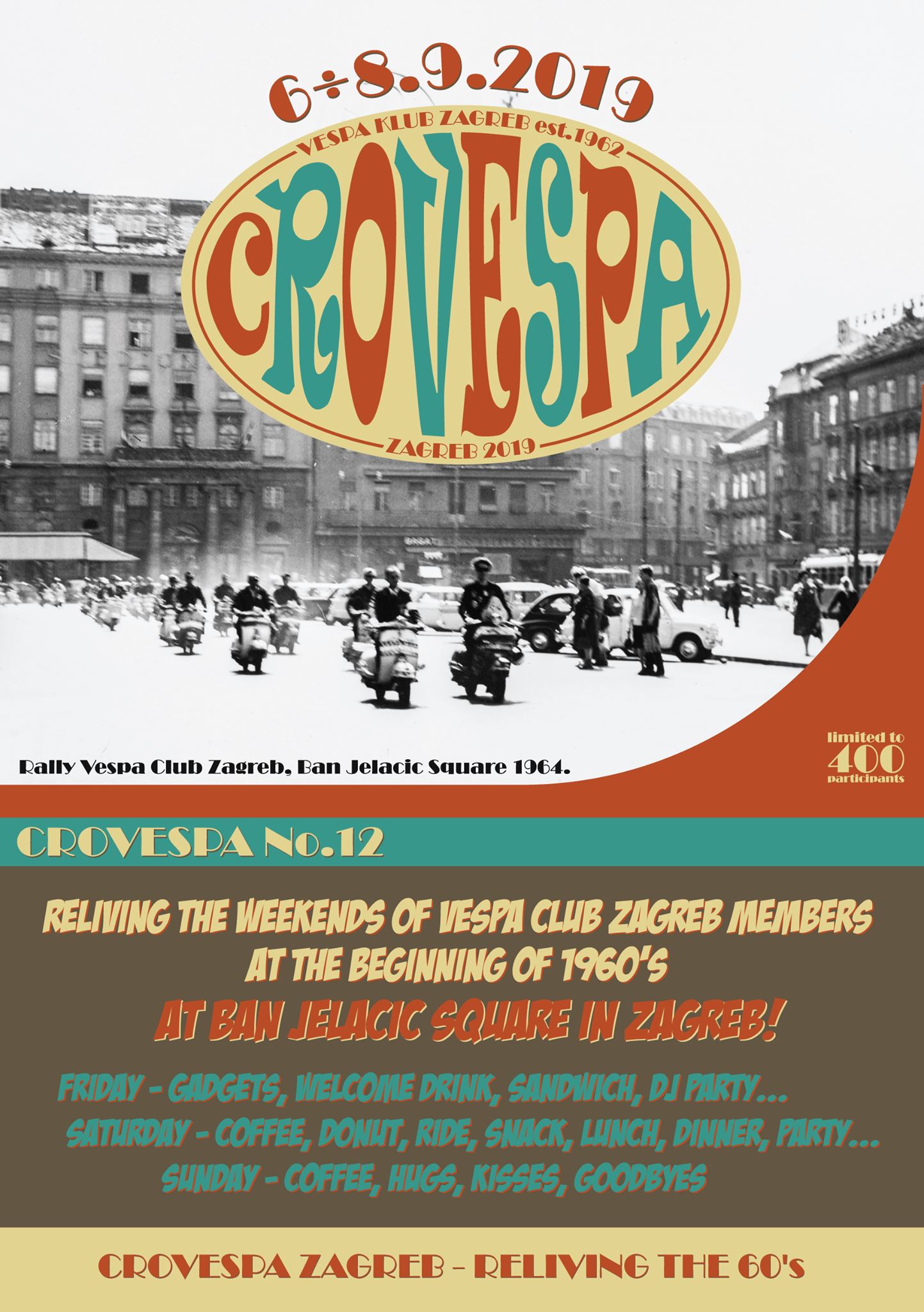 Liebe Mitglieder,
auf Bitte des VC Croatia erinnere ich Euch nochmals dringend an die Registrierung für die Crovespa.
Es sind offenbar ungewöhnlich wenige Österreicher angemeldet und nur mehr wenige Plätze verfügbar.
Registrierung unter: https://www.vespaclubcroatia.com/vcchof/register.php
Anbei die Infos zum Programm:
Following the main topic of Crovespa
- Reliving the 60's vespisti life in Zagreb - after coffee at Zagreb main square we will ride to Samobor. This beautiful town is located 35 km from Zagreb city center and is well known for local crafts as well as meat, bakery and sweets specialties and special appetizer wine. We will have a taste of all and then you will have a choice to visit the crafts workshops and museums. Before you go to the place of your choice (all within walking distance), we will serve you a special fast(slow) food "Češnofka to go". After few hours in Samobor, we will take you to lunch at Ethno Farm Mirnovec. Then we will return to Zagreb but it is not the end of the day. 
Back in the 60's, when vespisti came back from a nice picnic in Samobor, they've continued visiting some of the Zagreb finest taverns in the center and uptown. So members of VC Zagreb will take groups of interested participants on an "urban Vespa tour". No fee. For others, we will have professional tourist guides to show you around. Or maybe you want to rest for the highlight of the day - Dinner and Vespa Party at Johann Franck with great foods, drinks and 60's music. Choice is yours.
What's for dinner?
Canape with Zagreb cheese and tomato pesto
• Canape with Istrian sausage, cheese and vegetables
• Vol-au-vent with cream of mascarpone and salmon
• Crunchy bruschetta with Dalmatian prosciutto and olive spread
• Breaded chicken with spicy sauce
• Mini mozzarella with prosciutto and cherry tomatoes• Pork fillet on potato cream
• Black rice with sepia
• Marinated chicken breast with salad bouquet
• Pasta with shrimp and cherry tomatoes• Zagreb strudels
• Pannacota with forest fruit
• Brownie with dark chocolate glaze
Bon appetite!
---